Club Hut, Tanlan, Wales
The hut is stone built, consisting of one main living area, over which is the dormitory. On one side of the building is the toilet area.
The main room provides cooking facilities (an electric oven and microwave), a sink with hot and cold water, two fridges, table and chairs, storage space, cooking utensils and crockery. There is a comfortable sitting area. The room is heated by solid fuel stove. Upstairs is sleeping accommodation for ten people, in one large unisex room. There are comfortable foam mattresses, alpine hut style. No bedding is provided.
The entrance is through the lean-to, which houses the toilets and washroom. There are two washbasins with hot and cold water and a hot shower. The entrance area also provides storage for boots and outdoor gear. Fuel for the fire is charged per bucket used. Lighting is included in the hut fees, the rest of the electricity is payable through 50p meters. We have parking for about four cars. We request all our visitors to park with due consideration for our farmer neighbour and friend, ensuring he has adequate access.
It should be noted that the property is a mountaineering club hut and not a holiday cottage. Children should be supervised at all times. The hut is available for booking. We offer exclusive bookings when your party has sole use of the hut, or non-exclusive when other people may also be using the hut. We do not normally accept bookings of more than seven days. All enquiries about hut availability, current fees and bookings should be made through our hut booking secretary.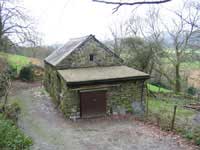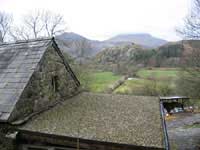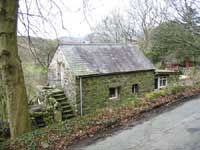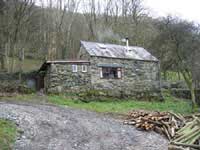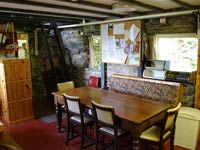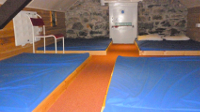 Hut Location
The hut is located in the Croesor Valley approx five miles from Beddgelert, marked on the map as Tanlan.
O/S Landranger map 124 or Outdoor Leisure map OL18 Grid Reference SH619428
The following route from Llangollen is recommended :-
Llangollen
Corwen
Bala
Trawsfynydd
Penrhyndeudraeth
Garreg, take the Beddgelert road for 250 yds
Then turn right at the signpost for Croesor (next to the house with the large archway)
Follow the narrow road for half a mile to reach a layby on the right with a telephone kiosk
The hut is directly opposite
You are are advised to go forwards down the sloping drive and reverse to the hut. Likewise reverse up the slope on leaving the hut.
View Larger Map